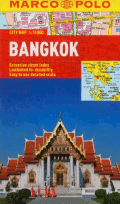 Marco Polo Bangkok Travel Map
Price:
$7.95
You Save: $0.79 (9.94%)
Waterproof, tear-resistant street map of Bangkok at a scale of 1:15,000 from Marco Polo Travel Publishing with a diagram of the metro network, a road map of the city's environs, and an index which also lists places of interest.
The map covers the city and its suburbs, extending west beyond the expressway network and east to include the districts across the Chao Phraya River. Bus routes are shown with line numbers and where appropriate, the direction. Metro stations are clearly marked and river ferry services are shown. For driving the map highlights principal traffic routes across the city, clearly shows the interchanges onto expressways and indicates one way streets. Important buildings are highlighted and named. Names of suburbs or districts are shown in the Thai alphabet.
A Street index on the reverse side includes separate lists and contact details of places of interest and facilities, such as public transport information, museums and other attractions, recommended shops and shopping centers etc.
Also provided is a map of Bangkok's metro network, plus a map of Greater Bangkok showing exit routes from the city.
Published: January 2913
ISBN: 9783829769624