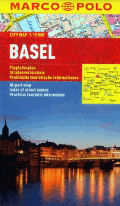 Marco Polo Basel Travel Map
Price:
$7.95
You Save: $0.79 (9.94%)
The optimum city maps for exploring, shopping and much more. The laminated, pocket format is easy to use, complete with public transport maps. The detailed scale shows even the smallest streets and it includes an extensive street index. Also includes Tourist Information and the Top 10 highlights the city has to offer.
The main map (at 1:15,000) includes Saint-Louis in France and Weil am Rhein and Grenzach-Wyhlen in Germany. An inset map shows Basel's city center in more detail at 1:10,000. The two maps show tram and bus routes with stops and line numbers, one way streets, car parks and pedestrian areas, etc. Important buildings and places of interest are marked. Multilingual map legend includes English.
The index on the reverse side includes lists of useful contact details for tourist information offices, hotel reservation, car rental, places of entertainment, emergency services, etc. The map also includes a map of the Basel – Mulhouse international airport, plus a small road map of the city's environs.
Scale: 1:15,000
Central Basel: 1:10,000
Published 2014
ISBN: 9783829730464