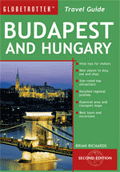 Globetrotter Budapest & Hungary Travel Guide
Price:
$14.95
You Save: $2.99 (20.00%)
Includes Fold-Out Map
Practical, informative and user-friendly, the Globetrotter Travel Guide to Budapest and Hungary highlights the major places of interest, describing their principal attractions and offering sound suggestions on where to tour, stay, eat, shop and relax.
Ideal for the first-time visitor
Over 25 full-color area maps, town plans and locator maps
Over 85 full-color photographs
Hungary may be among Europe's smaller nations, yet it packs tremendous variety into its 93,030 km. The rolling hills of the north, the Great Plain, the small towns of the Danube Bend, the spas of Transdanubia and the summer playground of Lake Balaton are all within an hour or two's drive of the capital, Budapest, itself one of Europe's most attractive and stylish cities.
The Globetrotter Guide is a great bargain. It includes not only a great travel guide to the city (and Country), but a great map that folds conveniently in the plastic pocket of the guide. You could pay almost as much for the map alone!
ISBN: 1845372263