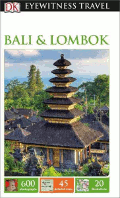 DK Eyewitness Bali & Lombok Travel Guide
Price:
$23.00
You Save: $4.60 (20.00%)
The Eyewitness Way To See The World!
Besides being one of the top ten honeymoon destinations in the world, Bali has been called the "Best Island in the World." Previously known for attracting backpackers, the island now caters to more sophisticated travelers and DK's Eyewitness Travel Guide: Bali & Lombok puts everything at your fingertips.
Experience the world's largest collection of Balinese art at the Bali Museum in Denpasar, the sacred Pura Luhur Uluwatu, exotic wildlife at the Bali Bird Park, the royal palace at Taman Gili, and the temple at Taman Ayun. Highlights in Lombok include: the Taman Naional Gunung Rinjani, the beach resorts at Senggigi, and the Mayura Water Palace.
DK Eyewitness Travel Guide: Bali & Lombok is your indispensable guide to this beautiful part of the world. This fully updated guide includes street maps of cities and towns, plus unique illustrated cutaways, floor plans and reconstructions of the must-see sights.
Vibrant full-color photography will help you visualize your destinations as you discover Bali and Lombok one region at a time. Detailed listings will inform you of the best hotels, restaurants, bars, and shops for all budgets. Explore local festivals and markets, day trips and excursions, gorgeous beaches, and find your way effortlessly around the region. DK's insider tips and cultural insights will help you explore every corner of Bali and Lombok, as if you were a local.
Town-by-Town Information on sights, markets and festivals to help you plan your visit.
History & Culture The islands' fascinating history and culture explained in text and pictures.
Unique Cutaways and floor plans help you explore local buildings - no need to purchase other guides!
Full-color photographs, taken especially for this guide, show you Bali and Lombok at their best.
Published: February 2016
ISBN: 9781465441003