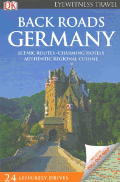 DK Eyewitness Back Roads Germany Travel Guide
Price:
$25.00
You Save: $5.00 (20.00%)
Discover Germany's Best Towns and Villages with this Detailed How-to Book.
DK Eyewitness Back Roads Germany driving vacation guide will take you via scenic routes to discover charming German villages, local restaurants, and intimate places to stay. Unearth the real soul of Germany relying on all the practical information you could need, from road conditions and length of drive to parking information and opening hours.
Twenty-four themed drives, each lasting one to six days, reveal breathtaking views, hidden gems, and authentic local experiences in Germany that can only be discovered by road. Each tour is bursting with insider knowledge and loaded with ideas for varied activities, from short walks and longer hikes, castles, palaces, and children's attractions, to wine tours, biking trips, and river-rafting.
Meanwhile, the most friendly, best-value hotels and guesthouses and charming restaurants specializing in regional produce have been selected by expert authors. Full-color throughout, with a pull- out map of the entire country for easy navigation between tours and even zip code information for use with GPS, discover the unexpected on your driving vacation with DK Eyewitness Back Roads Germany.
Published: March 2017
Carry a great driving map with you on your vacation. We recommend the Michelin Germany, Austria, Switzerland, Czech Republic Atlas. It is spiral bound so that it lies flat on your lap for easy reference. And it is packed with maps and city maps for all tourist areas.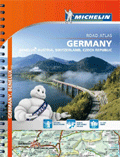 ISBN: 9781465457288