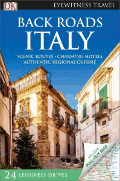 DK Eyewitness Back Roads Italy Travel Guide
Price:
$25.00
You Save: $5.00 (20.00%)
Scenic Routes | Charming Hotels | Authentic Regional Cuisine
Compiled by expert travel writers, based full- or part-time in the countries and regions they write about, DK's new Back Roads series uses in-depth local knowledge to create driving tours full of original ideas for activities, off-the-beaten-track stops, and authentically 'native' places to eat and to stay.
Back Roads Italy takes you off the highways to beautiful villages and stunning landscapes, authentic trattorias, and welcoming small hotels. 24 driving tours-ranging from two to five days-take . you deep into Italy's unexplored countryside, with charming places to stay and eat along the way. Each itinerary includes a guided walk through a historic town or unspoiled countryside, plus a range of activities and tips on buying local crafts and produce. Zip codes are listed for use with a GPS device.
Rules of the road, detailed maps, and clear driving instructions provide all the information you need for the perfect driving vacation.
PULL-OUT MAP
SCENIC ROUTES
HOTELS
DAY TRIPS
RESTAURANTS
WALKS
ACTIVITIES
VILLAGES
HISTORY
A companion series to the Eyewitness Travel Guides, the books can be used in conjunction with existing guides or on their own. Each guide has a pull-out road map for easy navigation between drives and all the practical information you need, from road conditions and the length of the drive to parking information and opening hours of restaurants and attractions.
Published: March 2016
The perfect companion to your Italian driving adventure is the Michelin Italy Tourist & Motoring Atlas. It will get you safely to your destination and back!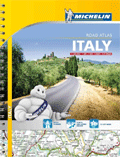 ISBN: 9781465439642