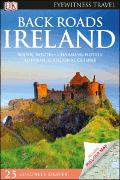 DK Eyewitness Back Roads Ireland Travel Guide
Price:
$25.00
You Save: $5.00 (20.00%)
The Guides that SHOW You What Others Only TELL You
Back Roads Ireland takes you away from the main roads and through stunning landscapes to picturesque villages, ancient sites, .and atmospheric pubs.
25 driving tours-ranging from one to five days-take you deep into Ireland's unexplored countryside, with charming places to stay and eat along the way. Each itinerary includes a guided walk through a historic town or unspoiled countryside, plus a range of activities, and tips on buying local crafts and produce. Zip codes are listed for use with a GPS device.
Rules of the road, detailed maps, and clear driving instructions provide all the information you need for the perfect driving vacation.
Pull-Out Map
Scenic Routes
Hotels
Day Trip
Restaurants
Walks
Activities
Villages
History
The culture, cuisines, traditions and landscape of Ireland are best appreciated close up - and there is no better way to home in on this endlessly fascinating part of the world than to slow down, leave the busy highways, and explore the countryside by its back roads.
Published: April 2018
The easiest way to explore the back roads of Ireland is to carry the most detailed atlas of the country. We recommend the Michelin Great Britain & Ireland Road Atlas.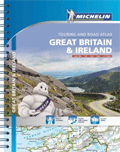 ISBN: 9781465468208