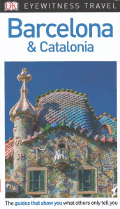 DK Eyewitness Barcelona & Catalonia Travel Guide
Price:
$20.00
You Save: $4.00 (20.00%)
The Guides that SHOW You What Others Only TELL You
Eyewitness Guides are marvels of writing, color photography, and illustration!
In this guide to Barcelona & Catalonia, you get:
Packed with photographs, illustrations, and maps
Cutaways and floor plans of all the major sights
3-D aerial views of Barcelona's most interesting districts
Where to eat, where to stay, and how to get around
Includes a section on Traveler's Needs and a Survival Guide
This eyewitness travel guide helps you get the most from your stay in Barcelona & Catalonia with the minimum of practical difficulty. It is lavishly illustrated, gorgeous, entertaining and enlightening. Covers Modernisme, Fiestas, Tapas, Bars, Art, Shopping, Churches, Restaurants and more!
Days are long in Barcelona, the morning extends until well after midday, with lunch starting around 2pm, and the late opening hours mean the afternoon merges into evening. With all of this time on your hands you want to make the most of it, and the Eyewitness Travel to Barcelona and Catalonia will help you to make the most of your time and your trip. Find out intimate details about each of the cities and what to do and see. Don't miss the new feature called Four Great Days in Barcelona. Each day maps out an itinerary ranging from Gaudi Greats to Family Fun.
Annually revised and updated
Beautiful new full-color photos, illustrations, and maps
Includes information on local customs, currency, medical services, and transportation
Consistently chosen over the competition in national consumer market research
Published: March 2018
ISBN: 9781465467744