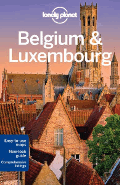 Lonely Planet Belgium & Luxembourg Travel Guide
Price:
$24.99
You Save: $5.00 (20.01%)
Reliable and Authoritative Travel Information
Fabulously historic and bursting with cuttingedge art, yet never really showy, these little countries are full of big surprises, whether you're ducking for oranges at a surreal Belgian carnival or finding glorious castles among Luxembourg's forested hills.
Planning features and top itineraries to help you plan the perfect trip
Local secrets and hidden travel gems that will make your trip unique
PLUS chocolate, mussels, must-try beers and art nouveau
Coverage Includes: Planning chapters, Brussels, Bruges, Western Flanders, Antwerp, Eastern Flanders, Western Wallonia, The Ardennes, Luxembourg, Understand and Survival Guide.
Published: April 2016
Need a great map of Belgium & Luxembourg? The Michelin Map of Belgium & Luxembourg is a great choice for any tourist.
ISBN: 9781743213919