DK Eyewitness Great Britain Travel Guide
Price:
$30.00
You Save: $6.00 (20.00%)
The Guides that SHOW You What Others Only TELL You
Eyewitness Guides are marvels of writing, color photography, and illustration!
In this guide to Great Britain, you get:
Over 2,000 photographs, illustrations, and maps
Cutaways and floor plans of all the major sights
Walks, scenic routes, and thematic tours in England, Scotland and Wales
Where to eat, where to stay, and how to get around
Includes a section on Traveler's Needs and a Survival Guide
This eyewitness travel guide helps you get the most from your stay in Great Britain with the minimum of practical difficulty. It is lavishly illustrated, gorgeous, entertaining and enlightening. Covers Stately Homes, Cathedrals, Pubs, Walks, History, Gardens, Art Galleries, and more!
Each of Great Britain's countries that have grown out of kingdoms, principalities, shire, fiefs, boroughs, and parishes has its own special flavor. This derives from Britain's landscape, its recourses and its history, all which have shaped its peoples, too. For more information about Great Britain's history, castles, gardens, restaurants, tours, national parks, stately homes and cathedrals look to Eyewitness Travel Great Britain.
Annually revised and updated
Beautiful new full-color photos, illustrations, and maps
Includes information on local customs, currency, medical services, and transportation
Consistently chosen over the competition in national consumer market research
Published: March 2018
Will you be traveling by car in Great Britain? Then you need the Michelin Great Britain & Ireland Road Atlas. It will get you where you are going!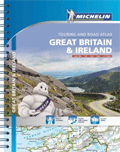 ISBN: 9781465467881