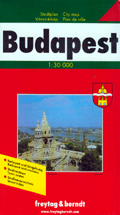 Freytag und Berndt Budapest Travel Map
Price:
$9.95
You Save: $0.99 (9.95%)
Budapest and Environs with a complete street index
Freytag & Berndt maps are handy road maps that cover most of Europe as well as Asia and Africa. With over 175 country and city maps as well as atlases, Freytag & Berndt know how to get you there!
This is a one-sided map with a separate booklet of index of place names attached to the cardboard cover.
Main Map of Budapest (Scale 1:30,000)
Inset map of Budapest Inner City (Scale 1:15,000)
Inset map of Budapest and Environs
Inset map of Budapest Metro System
This colorful map is printed on sturdy paper with a cardboard cover.
ISBN: 3850841235