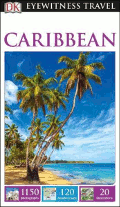 DK Eyewitness Caribbean Travel Guide
Price:
$30.00
You Save: $6.00 (20.00%)
The Guides that Show You What Others Only Tell You
DK Eyewitness Travel Guide: Caribbean will lead you straight to the best attractions this island paradise has to offer. Packed with full-color photographs, illustrations, and detailed mapping of 130 Caribbean islands, this expanded and updated guide explores everything from Harrison's Caves in Barbados to Nelson's Dockyard in Antigua, as well as the most pristine beaches and the best islands for history, architecture, and hiking.
Whether traveling via cruise or independently, DK's guide to the Caribbean is the ideal companion, providing insider tips such as the best places to dive, snorkel, sail, and play golf. Customized tour routes will lead you to must-see sights like the Blue Mountains, Jamaican Rum Distilleries, and rainforests on Martinique. You also will find extensive information about nature reserves and detailed listings of the best resorts, shops, restaurants, and nightlife for all budgets.
Don't miss a thing on your vacation with DK Eyewitness Travel Guide: Caribbean — an indispensable guide to the islands.
Packed with Photographs, Illustrations and Maps
The Best Places to Dive, Snorkel, Sail and Play Golf
Includes Detailed Mapping of over 130 Islands
Cutaways and Floor Plans of all the Major Sights
Huge Selection of Hotels and Restaurants, and Villas to Hire
Sights. Beaches, Markets, and Festivals Listed Town by Town
Walks, Scenic Routes and Thematic Tours
Publication Date: September 2016
This guide covers: Cuba, Cayman Islands, Turks & Caicos, Jamaica, Dominican Republic, Puerto Rico, Virgin Islands, Anguilla, St Martin/Siint Maartin, Saba & St Eustatius, St Kitts & Nevis, Antigua & Barbuda, St Barthelemy, Guadeloupe, Martinique, Dominica, St Lucia, St Vincent & The Grenadines, Grenada, Barbados, Trinidad & Tobago, ABC Islands.
ISBN: 9781465441140