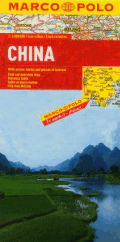 Marco Polo China Travel Map
Price:
$11.95
You Save: $1.19 (9.96%)
Scale 1:4,000,000
China from Marco Polo Travel Publishing is a map with special features to aid route planning, extensive index including mountain chains, rivers, etc, plus a street map of central Beijing.
A fold-out extension of the map cover gives at-a-glance overview of the whole area covered by the map with the adjoining regions, highlighting main places of interest and making it much easier to find various localities on the main map and/or plan a route. A set of seven peel-on/peel-off stickers, removable without damaging the map, is provided to make routes or locations more prominent when navigating.
Topography is indicated by relief shading with spot heights and names of mountain and hill ranges and selected peaks. Coloring and/or graphics indicate deserts and marches. Internal administrative borders are shown with names of the provinces. All place names are given only transliterated.
The map presents the country's road and rail networks and indicates local airports and coastal ferry routes, plus time zones. Numerous towns and villages worth visiting, as well as interesting natural sites are prominently highlighted. Latitude and longitude lines are marked at intervals of 2º. Multilingual map legend includes English.
Extensive index of place names is in a separate 32-page booklet attached to the map jacket and includes names of mountains, glaciers, rivers, lakes, etc., all coded with appropriate signs, as well as separate lists of national parks and World Heritage Sites. Also provided is a street map of central Beijing, plus a table with distances/traveling times.
Published 2013
ISBN: 9783829767439