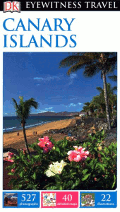 DK Eyewitness Canary Islands Travel Guide
Price:
$25.00
You Save: $5.00 (20.00%)
The Guides that SHOW you what other only TELL you
DK Eyewitness Travel Guide: Canary Islands shows the Canary Islands at their sun-soaked best. From sandy beaches to craggy peaks, this uniquely visual guide provides cutaways and floor plans of all of the major sights. Special coverage of the islands' unique geography and the wildlife of the archipelago includes its volcanic rock formations and geysers, diverse flora, and marine life.
No trip to the Canary Islands would be complete without joining revelers at one of its glorious carnivals; and with sights, beaches, markets and festivals listed town by town, you won't miss a thing. With a reliable selection of hotels, bars, and restaurants, and full-color, detailed maps of all the towns and regions, this is the perfect guide to help you experience the best of the islands.
Additionally, this expanded DK Eyewitness Travel Guide brings to life the islands' culture and history, explaining the legends of the islands, revealing tales of Spanish, Portuguese, and Catalan conquests, and the story that the islands were once believed to be the lost land of Atlantis.
This guide book includes:
Fabulous full color photographs, illustrations and maps
Cutaways and floor plans of all the major sights
Walks, scenic routes, and thematic tours
Sights, beaches, markets, and festivals listed town by town
Where to eat, where to stay and how to get around
Color coded to make finding things easier. Includes more than 500 sights, shops, restaurants, hotels,and entertainment venues.
Published: May 2017
ISBN: 9781465457387