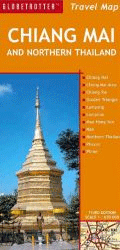 Globetrotter Chiang Mai & Northern Thailand Travel Map
Price:
$8.95
You Save: $0.89 (9.94%)
User-Friendly Map specially designed for Visitors
This large fold-out travel map of Chiang Mai and N. Thailand allows you to locate cities, towns, major roads and scenic routes, airports, hotels, golf courses, holiday resorts, parks and nature reserves. In addition, the reverse sides incorporate area maps and town and city plans of the major centers.
Maps Include:
Chiang Mai (1:18,000)
Chiang Mai Area (No Scale)
Chiang Rai (1:13,500)
Golden Triangle (1:620,000)
Lampang (1:8,500)
Lamphun (1:20,000)
Mae Hong Son (1:7,500)
Nan (1:11,000)
Northern Thailand (1:670,000)
Phayao (1:27,500)
Phrae (1:18,500)
Also includes regional climate charts, full-color photos, and concise place names index.
ISBN: 9781845378806