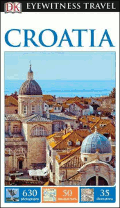 DK Eyewitness Croatia Travel Guide
Price:
$23.00
You Save: $4.60 (20.00%)
The Guides that SHOW you what others only TELL you!
DK Eyewitness Travel Guide: Croatia is your indispensable guide to this beautiful part of the world. The fully updated guide includes unique cutaways, floor plans, and reconstructions of the must-see sights, plus street-by-street maps of cities and towns.
DK's insider travel tips and essential local information will help you discover the best of this country, from local festivals and markets to day trips around the countryside.
Detailed listings will guide you to hotels, restaurants, bars and shops for all budgets, while practical information will help you to get around by train, bus, or car.
With hundreds of full-color photographs, hand-drawn illustrations, and custom maps that brighten up every page, DK Eyewitness Travel Guide: Croatia truly shows you around this destination as no one else can.
Three-dimensional cutaway illustrations and floor plans of key landmarks complement these richly illustrated, fully updated travel handbooks that also include enhanced maps, street-by-street guides, background information on a host of popular sights and an expanded traveler's survival guide providing tips on hotels, restaurants, local customs, transportation, medical services, museums, entertainment and more.
This guide book includes:
Over 750 photographs, illustrations and maps
Cutaways and floor plans of all the major sights
Walks, scenic routes and thematic tours
Where to eat, where to stay, and how to get around
Color coded to make finding things easier. Includes more than 500 sights, shops, restaurants, hotels,and entertainment venues.
Published: April 2017
Your vacation or business trip will be trouble free if you carry a great map of Croatia with you. We recommend the Freytag & Berndt Map of Croatia. It is the most detailed map available.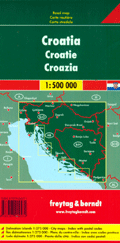 ISBN: 9781465457394