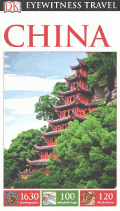 DK Eyewitness China Travel Guide
Price:
$30.00
You Save: $6.00 (20.00%)
The Guides that SHOW you What Others Only Tell You
Packed with color photographs, illustrations, and detailed maps, Eyewitness Travel Guide: China explores China region-by region; from the marathon meanderings of its Great Wall and nomadic life in Tibet to the great cave-temple complexes that dot the ancient silk-trade routes.
Eyewitness Travel Guide: China provides insider tips every visitor needs from taking the Trans-Siberian railway to seeing Hong Kong from a traditional sail boat. There are comprehensive listings of the best hotels, resorts, restaurants and nightlife in each region for all budgets, as well as 3D cutaways and floor-plans of all the must-see sites, from the spectacular Forbidden Palace to China's splendid temples and palaces plus street-by-street maps of all the great cities and towns of China.
With up-to-date information on getting around by train, car, walking in cities, scenic tours and all the sights, beaches, parks and gardens listed town by town, Eyewitness Travel Guide: China explores the culture, history, architecture and festivals of this diverse country not missing the best in shopping and entertainment in the major cities.
The Survival Guide contains practical information on everything from transport to personal safety.
This great guide is superb for planning, useful on the trip, and makes a great souvenir afterward.
Publication Date: June 2016
Need a map of China? We recommend the Freytag & Berndt Map of China and Mongolia.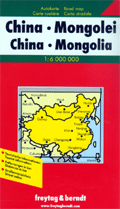 ISBN: 9781465440594