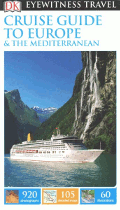 DK Eyewitness Cruise Guide to Europe & Mediterranean Travel Guide
Price:
$25.00
You Save: $5.00 (20.00%)
Eyewitness - The Guides That Show You What Others Only Tell You
Covers all major ports of call for Europe and the Mediterranean, from Monaco to Lisbon, to London and St. Petersburg! All cruise destinations of Italy, Greece, Turkey, Spain, and even Malta and Lebanon are included.
Expert Advice on the best things to see and do in more than 70 Ports of Call!
Practical advice on all aspects of cruising, from what to bring with you to choosing a cabin.
Destinations include: Croatia, Denmark, Estonia and Latvia, Finland, France, Germany, Great Britain, Greece and Cyprus, Ireland, Israel, Italy, Lebanon, Malta, the Netherlands, North Africa, Norway, Poland, Portugal, Russia, Spain, Sweden, Syria, and Turkey.
Make the Most of Your Hours on Shore!
Published: May 2015
ISBN: 9781465426659