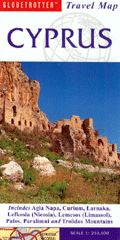 Globetrotter Cyprus Map Travel Map
Price:
$8.95
You Save: $0.89 (9.94%)
Includes Agia Napa, Curium, Larnaka, Lefkosia (Nicosia), Lemesos (Limassol), Pafos, Paralimni and Tro÷dos Mountains
This user-friendly travel map has been specifically designed for visitors as a practical and informative guide to Cyprus.
More than just a map, it includes detailed street plans of major towns and large-scale projections of popular tourist destinations.
This map contains regional climate charts, full color photographs, concise place names index and much more.
The map measures 5" x 10" folded and unfolds to an easily-manageable 28" x 39"
Scale: 1:250,000
ISBN: 1843308002