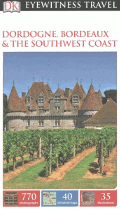 DK Eyewitness Dordogne, Bordeaux & Southwest Coast Travel Guide
Price:
$25.00
You Save: $5.00 (20.00%)
The Guides that SHOW You What Others Only TELL You
Eyewitness Guides are marvels of writing, color photography, and illustration!
Lots of photographs, illustrations, and maps
Cutaways and floor plans of all the major sights
Walks, Scenic Routes and Thematic Tours
Where to eat, where to stay, and how to get around
Easy-to-use maps and plans
This eyewitness travel guide helps you get the most from your stay in Dordogne & Southwest France with the minimum of practical difficulty.
The Eyewitness Travel Guide helps you to get the most out of your trip with minimum difficulties. The opening section Introducing Aquitaine locates the region geographically, sets modern Aquitaine in its historical context and explains how life changed through the years.
Beautiful new full-color photos, illustrations, and maps
Includes information on local customs, currency, medical services, and transportation
Consistently chosen over the competition in national consumer market research
Published: July 2016
Will you be driving in France? You'll always find your way with the Michelin France Motoring and Tourist Atlas. It is up-to-date and packed with city maps.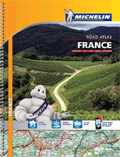 ISBN: 9781465440969