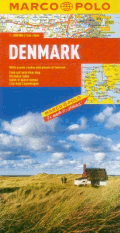 Marco Polo Denmark Travel Map
Price:
$11.95
You Save: $1.19 (9.96%)
Scale 1:300,000
Denmark from Marco Polo Travel Publishing is a map with special features to aid route planning, a street map of central Copenhagen, plus an inset showing access to the adjoining areas of Sweden: the bridge to Malmo and the ferry connections to Helsingborg and Landskrona.
A fold-out extension of the map cover gives at-a-glance overview of the whole area covered by the map with the adjoining regions, highlighting main places of interest and making it much easier to find various localities on the main map and/or plan a route. A set of seven peel-on/peel-off stickers, removable without damaging the map, is provided to make routes or locations more prominent when navigating.
Road network includes minor local roads and selected unsurfaced tracks, indicates motorway services, truck stops, toll stations, traffic or seasonal restrictions, etc, and gives driving distances on main and most secondary routes. Scenic roads, special tourist routes and viewpoints are highlighted. Railway lines, ferry routes and local airports are included.
Locations of interest are prominently highlighted, with separate coloring for towns or villages and for natural sites. National parks and other protected areas are marked. Symbols highlight locations of campsites, youth hostels and other tourist accommodation. Topography is shown by relief shading with spot heights, plus graphics for bogs, marshland and tidal flats. The map has no geographical coordinates. Multilingual map legend includes English.
A booklet attached to the map cover has an extensive index of place names, including geographical features and places of interest, with post codes given for towns and villages, plus distance/driving times table and basic driving regulations.
Published 2012
ISBN: 9783829767125