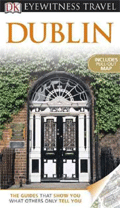 DK Eyewitness Dublin Travel Guide
Price:
$20.00
You Save: $4.00 (20.00%)
The Guides that SHOW You What Others Only TELL You
Eyewitness Guides are marvels of writing, color photography, and illustration!
The uniquely visual DK Eyewitness Travel Guide: Dublin is the perfect guide for exploring this exciting city, with clear maps and up-to-date coverage of all the best attractions. Discover Dublin's highlights with the guide's full color introduction, showing everything from the historic Trinity College that houses the richly decorated Book of Kells to the James Joyce Cultural Center and Old Jameson Distillery in the north of the city; unearthing all the best walks, landscaped parks and pubs in between.
The new-look guide is also packed with photographs and illustrations leading you straight to the best attractions in Dublin. Find detailed practical advice on what to see and do, covering everything from museums and cathedrals to shopping on O'Connell Street and sampling Guinness.
Detailed listings will guide you to the best hotels, restaurants, bars and shops for all budgets, whilst in-depth information will help you to get around, whether by train, car or bus. With a free pull out map, the DK Eyewitness Travel Guide: Dublin gives you all the advice you'll need for a memorable trip.
Published: December 2011
ISBN: 9780756684006