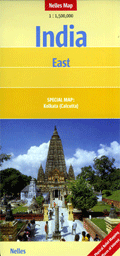 Nelles Eastern India Travel Map
Price:
$13.95
You Save: $1.39 (9.96%)
Nelles Maps - Explore The World!
Includes:
Map of Calcutta
Two-sided map
Includes Nepal
Legend Key in three languages
Nelles Verlag, out of Germany, offers top quality cartography. Added relief mapping for country maps, kilometer charts and clearly labeled tourist attractions make them top choices for travel or study.
Eastern India Map
Scale 1:1,500,000
ISBN: 9783865740366