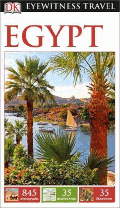 DK Eyewitness Egypt Travel Guide
Price:
$25.00
You Save: $5.00 (20.00%)
The Guides that SHOW You What Others Only TELL You
DK Eyewitness Travel Guide: Egypt is your indispensable guide to this remarkable part of the world. This fully updated guide includes street maps of cities and towns, plus unique illustrated cutaways, floor plans and reconstructions of the must-see sights.
Vibrant full-color photography will help you visualize your destinations as you discover Egypt one region at a time. Detailed listings will inform you of the best hotels, restaurants, bars, and shops for all budgets. Explore local festivals and markets, day trips and excursions to see ancient pyramids, and find your way effortlessly around the region. DK's insider tips and cultural insight will help you explore every corner of Egypt, as if you were a local.
With 3D cutaways and floor plans and comprehensive historical background, you can explore the Pyramids of Giza, marvel at the Sphinx, plan your Nile cruise and even learn how to decipher basic Egyptian hieroglyphics.
The guide provides all the insider tips every visitor needs from advice on classic Egyptian dishes to tips on how to bargain in the souqs, as well as reviews of the best hotels, restaurants and bars. Plus tips for shopping in Egypt with all the sights, beaches, markets and festivals listed town by town.
This eyewitness travel guide helps you get the most from your stay in Egypt with the minimum of practical difficulty. It is lavishly illustrated, gorgeous, entertaining and enlightening. Covers Pyramids, Beaches, Oases, Desert Life, Mosques, Markets, and more!
Published: February 2016
Want a great map of Egypt at a really reasonable price? We recommend the Globetrotter Map of Egypt. It is packed with information and City and Site maps.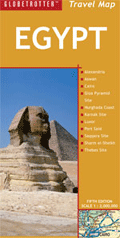 ISBN: 9781465441027