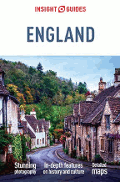 Insight England Travel Guide
Price:
$24.99
You Save: $5.00 (20.01%)
From the World leaders in Visual Travel Guides and the DiscoveryChannel
England's wealth of history and culture will fascinate any visitor. Be inspired to visit by the new edition of Insight Guide England, a comprehensive full-color guide to this rich and varied country.
Inside Insight Guide England:
A fully-overhauled edition by our expert regional authors. Stunning, specially-commissioned new photography that brings this scenic country and its people to life.
Highlights of the country's top attractions, including its ancient monuments, castles, stately homes and world-class museums in our Best of England.
Descriptive region-by-region accounts cover the whole country from its dynamic capital London to the beauty of the West Country and the Lake District, and the historic cities of Oxford, Bath and York. Detailed, high-quality maps throughout will help you get around and travel tips give you all the essential information for planning a memorable trip.
About Insight Guides: Insight Guides has over 40 years' experience of publishing high-quality, visual travel guides. We produce around 400 full-color print guide books and maps as well as picture-packed eBooks to meet different travellers' needs. Insight Guides' unique combination of beautiful travel photography and focus on history and culture together create a unique visual reference and planning tool to inspire your next adventure.
Published: January 2017
Will you be driving in England? You need a great atlas. We recommend the Michelin Touring Atlas of Great Britain & Ireland. It is accurate and packed with info. It is spiral-bound - so it lies flat!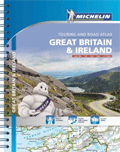 ISBN: 9781780059372