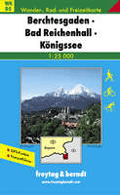 Freytag und Berndt Berchtesgaden, Königssee, Bad Reichenhall Travel Map
Price:
$9.95
You Save: $0.99 (9.95%)
Hiking, Biking and Ski Map Covering Berchtesgaden, Königssee, & Bad Reichenhall
This 2-sided map is ideal for hiking, biking or skiing in the regions of Berchtesgaden, Königssee and Bad Reichenhall - all in southern end of Bavaria.
The detail is exquisite - with a scale of 1:25,000.
The legends and some explanations are in both German and English. However, the detailed descriptions are in German only. Elevation changes are clearly visible. Includes GPS data.
Scale: 1:25,000
ISBN: 3850848167