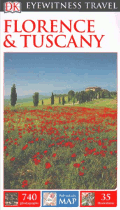 DK Eyewitness Florence & Tuscany Travel Guide
Price:
$25.00
You Save: $5.00 (20.00%)
The Guides that Show You What Others Only Tell You!
The visually stunning Eyewitness Guide to Florence and Tuscany provides the following:
Hundreds of Full Color Photographs, illustrations and maps
Unique cutaways and floor plans help you explore all the major sights - no need to purchase other guide books
3-D Aerial views of Florence and Tuscany's historic towns
Hotels, restaurants, cafés, and bars in all price ranges
Where to eat, where to stay and how to get around
The Eyewitness Guide to Florence & Tuscany helps you get the most from your stay in Florence and Tuscany with the minimum of difficulty. This book is a great travel guide and a stunning souvenir of your trip.
There is something for just about everyone in Florence and Tuscany. From viewing some of the world's greatest Renaissance art to wandering around designer boutiques. Discover a whole new side of Florence and Tuscany with the Eyewitness Travel Guide. This guide will give you practical information without any hassle. All of the important towns and other places to visit are described individually. Within each town or city, there is detailed information on important buildings and other sites. Make the most of your trip with the Eyewitness Travel Guide.
Published: March 2017
Carry a great map of Tuscany on your vacation or business trip. We recommend the Travel Club Italiano regional Map of Tuscany. TCI makes the best maps of Italy.
ISBN: 9781465457332