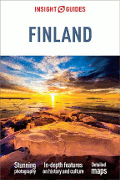 Insight Finland Travel Guide
Price:
$24.99
You Save: $5.00 (20.01%)
From the World leaders in Visual Travel Guides and the Discovery Channel
Whether it's kayaking in the serene Lakeland, enjoying a cruise on the Baltic, or taking in the splendour of the Northern Lights in Lapland - Insight Guide Finland helps you get the best out of this outdoor paradise.Inside Insight Guide Finland:A thoroughly overhauled edition by our expert authors.Stunning photography brings this stunning country and its people to life. Highlights of the country's top attractions, such as Helsinki's Jugend architecture and the Lakes region as well as in-depth features on some unmissable Finnish experiences, such as relaxing in a traditional sauna and cycling around the gorgeous Aland archipelago. Descriptive region-by-region accounts cover the whole country from the cool capital, Helsinki, to Lapland in the far north.Detailed, high-quality maps throughout will help you get around and travel tips give you all the essential information for planning a memorable trip.About Insight Guides: Insight Guides has over 40 years' experience of publishing high-quality, visual travel guides. We produce around 400 full-colour print guide books and maps as well as picture-packed eBooks to meet different travellers' needs. Insight Guides' unique combination of beautiful travel photography and focus on history and culture together create a unique visual reference and planning tool to inspire your next adventure.
Published: July 2017
Need a great map of Finland? The Freytag & Berndt Map of Finland is a great choice for every traveler.
ISBN: 9781786716118