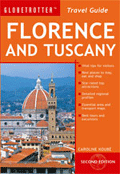 Globetrotter Florence & Tuscany Travel Guide
Price:
$14.95
You Save: $2.99 (20.00%)
OUT OF STOCK
This Globetrotter Travel Pack to Florence and Tuscany offers exceptional value for the money by combining Guide and Map in a convenient and durable plastic wallet.
Each pack comprises the relevant Travel Guide and a full-size Travel Map.
The handy Travel Guides are crammed with useful information, travel tips and recommendations for the traveler.
Favoring essential and practical travel data over extended essays, their clearly presented, easy-to-carry format is both attractive and practical.
Ideal for the first time visitor
Over 30 full-color maps, town plans, and locator maps.
Over 90 full-color photographs
Fold-out map included.
Need a great Map of Florence? Click to see the Insight Fleximap of Florence - a great choice for all travelers.
ISBN: 1845373219