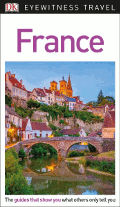 DK Eyewitness France Travel Guide
Price:
$30.00
You Save: $6.00 (20.00%)
The Guides that Show You What Others Only Tell You
Eyewitness Guides are marvels of writing, color photography, and illustration!
DK Eyewitness Travel Guide: France will lead you straight to the best attractions France has on offer. Packed with photographs, illustrations and clear maps of France, the guide explores everything region by region; from Champagne in the north to the sun-blessed corner of Provence and the Cote d'Azur, the world-class architecture of the Louvre to the island-life of Corsica and rolling vineyards of Bordeaux.
With 3D cutaways and floor plans as well as street-by-street maps of the major towns and comprehensive historical background, you can explore all the must-see sites, the best hotels, chateaux, resorts, restaurants, cafes and nightlife in each region for all budgets.
DK Eyewitness Travel Guide: France explores the culture, history, architecture and art of this charming country - with a perfect balance between thriving cities and gorgeous countryside, high fashion and rustic charm, plus there's up-to-date information on getting around by train, car and on foot.
The chapters of this book have been divided into 16 color-coded regions that reflect the diversity of France. These are based on the country's historical regions that were often defined by their geography and landscape as much as by their influence and power.
Each has developed its own special flavor; its own architecture, cuisine, customs, music, dress, dialect and even language. The pages of the Eyewitness Travel Guide will give a taste of these areas and show you what there is to see and do.
Published: April 2018
Will you be driving in France? We recommend the Michelin Motoring Atlas of France. It is spiral bound and easy to use in the close confines of an automobile. And, it is accurate and easy to use.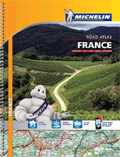 ISBN: 9781465468277