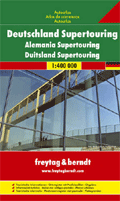 Freytag und Berndt Germany Supertouring Atlas Travel Map
Availability:
Out of Stock
Price:
$16.95
You Save: $1.69 (9.97%)
OUT OF STOCK
This handy atlas of Germany is a convenient size at 6.4 inches by 10.2 inches. It is spiral bound - so it is very easy to use in the car. The pages lie flat for easy reading.
The road maps of Germany are presented at a scale of 1:400,000 and show primary, secondary and tertiary roads. The detail and the coloring are exquisite.
There is a very extensive index of place names - and on which page in the atlas the places are located. There are also 54 pages of City Maps covering all the major cities of Germany, from Aachen to Würzburg. There is also a separate index of street names for the cities.
The maps in the atlas extend slightly beyond the German border - to Pilsen in the Czech Republic, to Salzburg in Austria, and Zürich in Switzerland. So, if you want to make a brief excursion into a neighboring country, you're covered!
The legend is in several languages: German, English, French and Italian are among the languages.
Sample: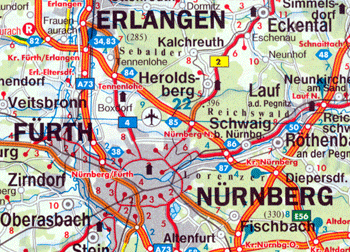 ISBN: 9783707907599