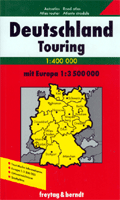 Freytag und Berndt Germany Touring Atlas Travel Map
Availability:
Out of Stock
Price:
$14.95
You Save: $1.49 (9.97%)
OUT OF STOCK
Freytag & Berndt maps feature:
Computerized Cartography
Easy-to-read Index
Multi-lingual map key
Freytag & Berndt maps are handy road maps that cover most of Europe as well as Asia and Africa. With over 175 country and city maps as well as atlases, Freytag & Berndt know how to get you there!
This perfect-bound touring atlas of Germany consists of 250 pages. The Germany road maps are at a scale of 1:400,000, are wonderfully colorful, and easy to read. There is a complete index of place names to assist you with finding any location in Germany. There is also a set of maps for all the major cities in Germany. The scale varies depending on the city. But, generally, there are two maps for each city: an overview map at a scale of 1:100,000 and a map of the central region at a scale of 1:15,000.
Also contained in this atlas is a map of Europe at a scale of 1:3,500,000.
The legend is in four languages: German, English, French and Italian
ISBN: 385-084-025-5