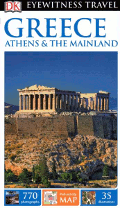 DK Eyewitness Greece Travel Guide
Price:
$25.00
You Save: $5.00 (20.00%)
The Guides that SHOW You What Others Only TELL You
Eyewitness Guides are marvels of writing, color photography, and illustration!
Whatever your budget DK Eyewitness Travel Guide Greece: Athens & the Mainland will lead you straight to the best attractions this dynamic region has to offer. Bursting with detailed maps of Athens and the Greek mainland regions, extensive cutaways and floor plans of all the most intriguing historical sites, this guide advises you on the best things to do in Greece - from scenic walks which take in the archaeological monuments of the Acropolis, to visiting the monasteries of Meteora, to relaxing on one of the gorgeous beaches on the Greek Mainland, the guide will leave you inspired.
Fully updated and expanded, the DK Eyewitness Travel Guide Greece: Athens & the Mainland explores all the essential insider information every traveler needs, including dozens of suggestions for hotels, restaurants, entertainment and excursions across Athens and the Greek Mainland.
This eyewitness travel guide helps you get the most from your stay in Greece with the minimum of practical difficulty. It is lavishly illustrated, gorgeous, entertaining and enlightening. Covers Ancient Sites, Beaches, Monasteries, Mountains, Tavernas, Museums, and more!
Published: June 2017
ISBN: 9781465459992