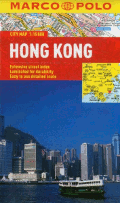 Marco Polo Hong Kong Travel Map
Price:
$4.95
You Save: $0.49 (9.90%)
Waterproof, tear-resistant street map of Hong Kong at a scale of 1:15,000 showing public transport options, a diagram of the metro network, a road map of the environs, and an index which also lists places of interest.
The map covers most of the Hong Kong Island plus Kowloon. Metro lines and stations are clearly marked and the map shows other public transport options: tram and bus routes, and ferry connections. For drivers the map indicates principal traffic routes, pedestrian and one way streets, and selected parking lots. Important buildings are highlighted and named. Street index on the reverse side includes lists of places of interest and facilities, such as public transport offices, accommodation agencies, museums, etc. Multilingual map legend includes English.
The map includes a diagram of Hong Kong's rail and metro network, plus a small road map covering most of the Hong Kong Special Administrative Region.
Published: June 2013
ISBN: 9783829769723