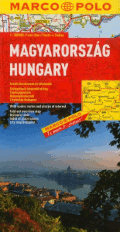 Marco Polo Hungary Travel Map
Price:
$11.95
You Save: $1.19 (9.96%)
Marco Polo Maps presents a double-sided map of Hungary at a scale of 1:300,000 with an inset map of central Budapest. A fold-out flap on the map cover shows an overview of the whole area covered by the map plus the adjoining regions and highlights popular locations. A set of seven peel-on/peel-off stickers, removable without damaging the map surface, is provided for making selected locations more prominent when navigating.
The map divides the country east/west, with the western side extending to Vienna and Bratislava. Road system includes minor local roads and selected unsurfaced tracks, indicates motorway services, toll stations, traffic restrictions and routes not recommended for RVs, gradients, etc. and gives driving distances on main routes. Scenic routes and viewpoints are highlighted. Railway lines and local airports are included.
Locations of interest are highlighted, with separate coloring for towns or villages and for natural sites. National parks and other protected areas are marked. Symbols highlight locations of campsites, youth hostels, isolated hotels, etc. The map has no geographical coordinates. Map legend includes English. The index is in a separate booklet attached to the map cover and lists all locations with their postal codes. Also provided are a distance/traveling times table, emergency numbers and main traffic regulations.
The map scale is 1: 300 000.
Published: 2014
ISBN: 9783829738781