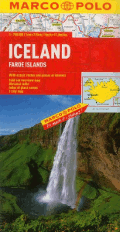 Marco Polo Iceland Travel Map
Price:
$11.95
You Save: $1.19 (9.96%)
Marco Polo maps feature completely up-to-date, digitally generated mapping. The high quality cartography with distance indicators and scale converters aid route planning.
Includes a city plan of Reykjavik. A fold-out overview map is ideal for route planning and 7 self-adhesive Marco Polo mark-it stickers can be used to pin-point a destination or route for future reference. Scenic routes and places of interest are highlighted - ideal for touring holidays. Comprehensive index. The map scale is 1: 750 000.
A fold-out extension of the map cover gives at-a-glance overview of the whole area covered by the map with the adjoining regions, highlighting main places of interest and making it much easier to find various localities on the main map and/or plan a route. A set of seven peel-on/peel-off stickers, removable without damaging the map, is provided to make routes or locations more prominent when navigating.
Road network includes gravel roads and 4WD tracks, indicating toll routes, river fords and sections closed in winter months. Scenic roads are highlighted and driving distances are shown marked on most roads.
Locations of interest are prominently highlighted and symbols show campsites, youth hostels, mountain refuges, emergency shelters, viewpoints, etc. Topography is presented by relief shading and spot heights, with additional coloring for glaciers and lava fields. Latitude and longitude are shown by margin ticks at intervals of 30 minutes and 1 degree respectively. Multilingual map legend includes English.
A booklet attached to the map cover has an extensive index of place names which also list various geographical features, a distance/driving times table, plus basic driving regulations.
Also provided are large inset maps with more detailed enlargements for Myvatn (1:75,000), Pingvellir (1:40,000) and Hekla (1:75,000), plus a street plan of central Reykjavik.
Published 2012
ISBN: 9783829767231