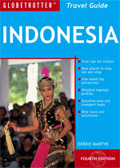 Globetrotter Indonesia Travel Pack Travel Guide
Price:
$14.95
You Save: $2.99 (20.00%)
Practical, informative, and user-friendly
The Globetrotter Travel Guide to Indonesia highlights the major places of interest, describing their principal attractions, and offering sound suggestions on where to tour, stay, eat, shop, and relax.
Ideal for the first time visitor
Over 30 full-color maps, town plans, and locator maps
Over 75 full-color photographs
Fold-out map included.
The travel pack includes the guide and map in a compact water-proof cover for easy packing!
This Globetrotter Travel Pack to Indonesia offers exceptional value for money by combining Guide and Map in a convenient and durable plastic wallet. The handy Travel Guides are crammed with useful information, travel tips and recommendations for the traveler. Favoring essential and practical travel data over extended essays, their clearly presented, easy-to-carry format is both attractive and practical.
The Author: Debbie Martyr has lived and worked in Central Sumatra for over four years, most recently researching the orange pendeck and other fauna of Kerine Seblat National park.
Need a great map of Southeast Asia? The Collins Map of Indonesia is a great choice for all travelers.
ISBN: 1845373944