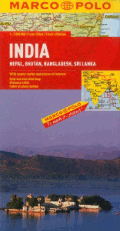 Marco Polo India, Nepal, Bhutan, Bangladesh, Sri Lanka Travel Map
Price:
$11.95
You Save: $1.19 (9.96%)
Scale 1:2,500,000
India, Nepal, Bhutan Bangladesh and Sri Lanka from Marco Polo Travel Publishing is a map with prominent highlighting of interesting locations.
The map covers India, plus the whole of Nepal, Bhutan, Bangladesh and Sri Lanka. The north-western tip of the country with the Pakistani part of Jammu and Kashmir and the Karakoram is shown as an inset. Assam and the eastern states are also on an inset which extends the coverage to Mandalay in Burma. Two smaller panels show the Andaman and Nicobar Islands.
Topography is indicated by relief shading with spot heights and names of mountain and hill ranges and selected peaks. Coloring and/or graphics indicate deserts and marshes. Internal administrative borders are shown with names of the states. The map shows the country's road and rail networks and highlights numerous towns and villages worth visiting, as well as interesting natural sites, both in India itself and in the adjoining countries. Latitude and longitude lines are marked at intervals of 1º.
A 48-page booklet attached to the map cover provides an extensive index of place names in all the countries covered by the map including names of mountains, glaciers, rivers, lakes, etc. Also included are lists of national parks and of UNESCO World Heritage sites. Multilingual map legend and all the text include English.
A fold-out flap in the cover shows for route planning an overview of the whole area covered by the map with a grid reference system in the margins making it easier to find locations on the main map. Also included is an administrative map of India showing the division into states.
Published 2012
ISBN: 9783829767446