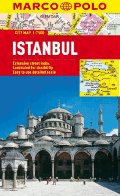 Marco Polo Istanbul Travel Map
Price:
$7.95
You Save: $0.79 (9.94%)
The optimum city maps for exploring, shopping and much more. The laminated, pocket format is easy to use, complete with public transport maps. The detailed scale shows even the smallest streets and it includes an extensive street index. Also includes Tourist Information and the Top 10 highlights the city has to offer.
On the main map coverage west of the Golden Horn extends along the coast to Yedikule and in the north-west to the Halic Bridge; in the modern part of the city, the map extends along the Bosphorus to the Besiktas football stadium. On the reverse two separate panels at the same scale extend the map beyond Besiktas to include the Dolmabahçe Palace and coastal part of the Asian side of the city.
The tramline linking Istanbul's historic center with the districts east of the Golden Horn is shown with stops, metro stations are clearly marked, also the historic tram route along the Istiklal. The map also shows ferry piers and the numerous ferry connections. Important buildings are highlighted and named. Street index on the reverse side includes separate lists and where appropriate contact details of various places of interest and facilities, such as public transport offices, accommodation agencies, museums, etc.
An inset map shows the Grand Bazaar with names of the various streets within it. Also provided is a diagram of the metro and tram network, plus a road map of the city's outer suburbs showing access to the international airport and the two bridges across the Bosphorus.
Published 2012
ISBN: 9783829769662