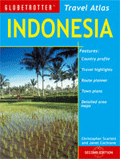 Globetrotter Indonesia Travel Atlas Travel Map
Price:
$14.95
You Save: $1.49 (9.97%)
User-Friendly Atlas specially designed for Visitors
This user-friendly road atlases of Indonesia is fully color-coded to make reference to areas quickly, text revealing the history of the region and other notable facts.
Globetrotter Road Atlases are practical yet imaginative guides to their featured country, its major centers, national parks and other places of interest. A selection of beautiful photographs evokes the character of the country and its people.
Features include fully updated area and city maps, distance and climate charts, convenient keys and useful tips on travel, accommodation and main attractions.
User-friendly Maps
Topographical Detail
Handy Key for quick reference to all the maps in the atlas
Tourist areas section featuring the areas most likely to be visited by travelers
Main map section covering the whole of the Indonesian archipelago
General index and separate index of place names
86 color maps, 79 color photographs
The photographs evoke the character of the country and its people.
ISBN: 9781859749173