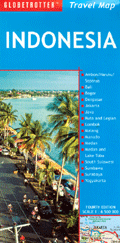 Globetrotter Indonesia Travel Map
Price:
$8.95
You Save: $0.89 (9.94%)
User-friendly, Up-To-Date, and Packed with Info
This large fold-out travel map of Indonesia allows you to locate cities, towns, major roads and scenic routes, airports, hotels, golf courses, holiday resorts, parks and nature reserves. In addition, the reverse side incorporates area maps and town and city plans of the major centers.
On one side of the page is a map of indonesia at a scale of 1:6,500,000. There are several color photos of major sites, a map of Java at a scale of 1:500,000 and a map of Bali at a scale of 1:400,000. Also an index of placenames, a temperature chart and a distance chart.
On the other side of the page there are more color photos and the following maps:
Jakarta (1:28,500)
Malang (1:16,600)
Yogyakarta (1:31,500)
Bogar (1:33,000)
Surabaya (1:25,000)
Lombok (1:760,000)
Medan (1:26,000)
Manado (1:25,000)
Kuta & Legian (1:20,000)
Denpasar (1:11,000)
South Sulawesi (1:400,000)
Ambon/Haruku/Saparua (1:950,000)
Medan & Lake Toba (1:560,000)
Sumbawa (1:1,000,000)
Physical Size: 39 1/2 x 28 in folded out
ISBN: 1845373979