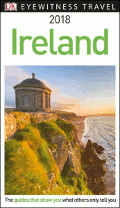 DK Eyewitness Ireland Travel Guide
Price:
$25.00
You Save: $5.00 (20.00%)
Eyewitness SHOWS you what other guides only TELL you
Newly revised, updated, and redesigned for 2017.
Experience the best of Ireland with DK Eyewitness Travel Guide: Ireland. This newly updated travel guide for Ireland will lead you straight to the best attractions this country has to offer, from touring historic castles to exploring the countryside along the mystical Ring of Kerry to drinking Guinness in Dublin's coziest pubs.
Expert travel writers have fully revised this edition of DK Eyewitness Travel Guide: Ireland.
Improved neighborhood walking maps now include restaurant locations by area.
Completely new hotel and restaurant listings now include DK Choice special recommendations.
New typography and fresh layout throughout.
You'll still find DK's famous cutaway illustrations of major architectural and historic sights, museum floor plans, and 3-D aerial views of key districts to explore on foot, along with in-depth coverage of the city's history and culture. Maps are marked with sights from the guidebook and include a street index.
With hundreds of full-color photographs, hand-drawn illustrations, and custom maps that illuminate every page, DK Eyewitness Travel Guide: Ireland truly shows you this country as no one else can.
In this guide to Ireland, you get:
Many, Many photographs, illustrations, and maps
Cutaways and floor plans of all the major sights
Walks, scenic routes, and thematic tours in Dublin and the countryside
Where to eat, where to stay, and how to get around
Includes a section on Traveler's Needs and a Survival Guide
Learn about Ireland's profound cultural heritage, breathtaking scenery and famous easy-going lifestyle with the Eyewitness Travel Guide. The opening chapter Introducing Ireland maps the country and sets it in its historical and cultural context. Each of the seven regional chapters plus Dublin Area by Area contains descriptions of the most important sights with maps, pictures and illustrations.
Published: September 2017
For traveling in Ireland, we recommend the Michelin Map of Ireland.
ISBN: 9781465460424