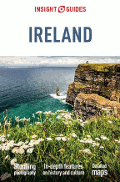 Insight Ireland Travel Guide
Price:
$23.99
You Save: $4.80 (20.01%)
From the World leaders in Visual Travel Guides and the Discovery Channel
Ireland packs many delights into its compact size and its main attractions - from the Wild Atlantic Way to its pubs and craic and numerous places of interest - are only the beginning. Be inspired to visit by the new edition of Insight Guide Ireland, a comprehensive full-color guide to both the Republic and Northern Ireland.
Inside Insight Guide Ireland:
* A fully-overhauled major new edition by our expert Irish author.
* Stunning, specially-commissioned photography that brings this fascinating country and its people to life.
* Highlights of the country's top attractions, including the art treasures of the Rijksmuseum and the picture-perfect small towns of Edam and Delft.
* Descriptive region-by-region accounts cover the whole country from the perennial favorite of Amsterdam to the sandy beaches in the country's north.
* Detailed, high-quality maps throughout will help you get around and travel tips give you all the essential information for planning a memorable trip.
Insight Guide Ireland now includes the Walking Eye app, free to download to smartphones and tablets on purchase of the book. The Netherlands app includes our independent selection of the best hotels and restaurants, plus activity, event and shopping listings.
About Insight Guides: Insight Guides has over 40 years' experience of publishing high-quality, visual travel guides. We produce around 400 full-colour print guide books and maps as well as picture-packed eBooks to meet different travellers' needs. Insight Guides' unique combination of beautiful travel photography and focus on history and culture together create a unique visual reference and planning tool to inspire your next adventure.
Published: February 2017
Need a great map of Ireland? The Michelin Map of Ireland is a great choice for all travelers.
ISBN: 9781786715296