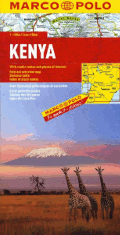 Marco Polo Kenya Travel Map
Price:
$13.95
You Save: $1.39 (9.96%)
Scale 1:1,000,000
Marco Polo maps feature completely up-to-date, digitally generated mapping. The high quality cartography with distance indicators and scale converters aid route planning. The extensive coverage of the maps enables travelers to cross country boundaries with the same map. A fold-out overview map is ideal for route planning and 7 self-adhesive Marco Polo mark-it stickers can be used to pin-point a destination or route for future reference. Scenic routes and places of interest are highlighted - ideal for touring holidays. The maps also contain a comprehensive index.
This Marco Polo map of Kenya features really easy to read cartography. Topography is highlighted with relief shading and loads of spot heights and the road network is clearly shown with roads ranging from motorways all the way through to minor secondary roads. The map also clearly indicates airports, places of interest, scenic/tourist routes, view points etc.
The map includes a booklet attached to the cover that contains some useful information and a very extensive index that covers locations, places of interest and geographical features. Also included are a distance/driving time chart and a fold out flap on the cover with an overview map of the region covered.
The legend is in a multitude of languages including English.
Published 2008
ISBN: 9783829739023