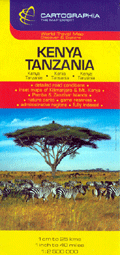 Cartographia Kenya & Tanzania Travel Map
Price:
$12.00
You Save: $1.20 (10.00%)
World Travel Map from the Map Experts
Features: Fully indexed; detailed road conditions, inset maps of Kilimanjaro & Mt. Kenya, Pemba & Zanzibar Islands, Der Es Salaam & Nairobi, nature parks, game reserves, administrative regions Complementory map of the surroundings
Includes these details: international,-regional main road,- without surface; national improved road, distance in km, provincial earth road, frontier crossing, other earth road, track for 4 WD vehicles, railway, rail-ferry, railway under construction, international,-provincial boundary, capital, centre of province, number of inhabitants of settlements, other inhabited places, national park, game reserve, shipping line, intermittent lake, river, salt lake, marsh, coral reefs, waterfall, well, sand desert, lava-field, forest, international airport, airport, landing-strip, ferry, important port, lighthouse, place of interest, scenic spot, prehistoric site, ruin, church, temple, mosque, cemetery, hotel, lodge, rest-house, camping, filling station, repair service, museum, post office, hospital, police, watersports facilities.
Scale: 1:2.500.000.
The maps are located on one side of the page; the index is located on the other side of the page.
ISBN: 9789633529744