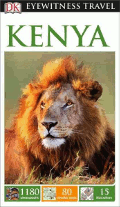 DK Eyewitness Kenya Travel Guide
Price:
$25.00
You Save: $5.00 (20.00%)
The Guides that Show you what Others only Tell You
DK Eyewitness Travel Guide: Kenya will lead you straight to the best attractions this country has to offer. Packed with full-color photography, illustrations, and maps, this updated guide explores Kenya's many dynamic features, from the spectacular wildlife and breathtaking national parks, to the lively nightlife and cultural attractions of Nairobi. Features include a comprehensive illustrated guide to Kenya's habitats and wildlife, information on game reserves and safaris, and detailed maps of Kenya's national parks.
DK Eyewitness Travel Guide: Kenya provides all the insider tips visitors need with listings of the best hotels, restaurants, bars, and shops for all budgets, as well as the entertainment, beaches, markets, and festival options listed town by town.
Published October 2015
ISBN: 9781465428325