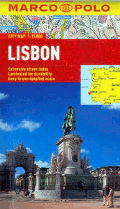 Marco Polo Lisbon Travel Map
Price:
$7.95
You Save: $0.79 (9.94%)
The optimum city maps for exploring, shopping and much more. The laminated, pocket format is easy to use, complete with public transport maps. The detailed scale shows even the smallest streets and it includes an extensive street index. Also includes Tourist Information and the Top 10 highlights the city has to offer.
Coverage extends beyond the ring road to the city's international airport. Metro lines and stations are clearly marked and bus routes are shown with line numbers. For drivers the map indicates principal traffic arteries, pedestrian and one way streets, and selected car parks. Important buildings are highlighted and named. Street index on the reverse side includes separate lists and where appropriate contact details of various places of interest and facilities, such as public transport offices, accommodation agencies, museums, etc. Multilingual map legend includes English.
An inset map shows central Lisbon in more detail (1:10,000); the map also includes a diagram of the city's metro network, a small road map of its environs, plus street maps of Sintra and Cascais.
Scale: 1:15,000
Central Lisbon: 1:10,000
Published 2013
ISBN: 9783829769730