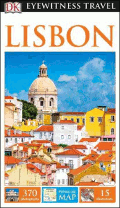 DK Eyewitness Lisbon Travel Guide
Price:
$20.00
You Save: $4.00 (20.00%)
The Guides that SHOW you what other only TELL you
Lavishly illustrated, entertaining and enlightening, Eyewitness Travel Guides are marvels of writing, color photography, and illustration.
This guide book includes:
Over 400 full color photographs taken especially for this guide showing you Lisbon at its best
Unique Cutaways and floor plans of all the major sights help you explore public buildings and landmarks - no need to purchase other guides
Detailed and accurate Street Finder maps give you instant access to each district
The survival guide shows you how to use local currency, public transportation and telephones
Carefully selected hotels, restaurants, bars and cafés in all price ranges
Color coded to make finding things easier. Includes more than 300 sights, shops, restaurants, hotels,and entertainment venues.
Published: April 2017
ISBN: 9781465457400