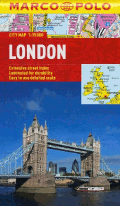 Marco Polo London Travel Map
Price:
$7.95
You Save: $0.79 (9.94%)
Waterproof, tear-resistant street map of London at a scale of 1:15,000 from Marco Polo Travel Publishing with a diagram of the Underground network, a road map of the city's environs, and an index which also lists places of interest. The map is folded to a convenient pocket size, but when opened covers a larger part of the capital than found on tourist maps of central London.
Overage extends roughly from Holland Park and the Olympia exhibition center in the west to Whitechapel and New Cross in the east and from Highbury Fields in the north to Battersea in the south. Tube stations are clearly marked and named and the map also shows bus routes with line numbers. For drivers the map indicates main traffic arteries and shows one way streets and parking. Important buildings are highlighted and named.
Street index is on the reverse side and includes lists of useful contact details for tourist information offices, transport information, campsites and youth hostels, car rental, museums, entertainment venues, emergency services, etc.
Published: June 2012
ISBN: 9783829769549