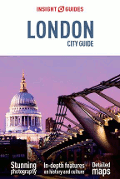 Insight London Travel Guide
Price:
$19.99
You Save: $4.00 (20.01%)
From the World leaders in Visual Travel Guides and the Discovery Channel
* Stunning, specially-commissioned photography that brings the city and its people to life.
* Highlights of the city's top attractions in our Best of London, including the city's best museums and art galleries and iconic landmarks such as Big Ben and Buckingham Palace.
* Descriptive area-by-area accounts cover the whole city: from stately Westminster to vibrant Covent Garden, and well-to-do Knightsbridge to historic Southwark and the South Bank.
* Additional chapters take visitors beyond the center to Kew Gardens, Hampton Court Palace, Hampstead, Greenwich and vibrant East London, and cover day trips to Windsor, Bath and Stratford-upon-Avon.
* Detailed, high-quality maps throughout will help you get around and travel tips give you all the essential information for planning a memorable trip.About
Insight Guides:
Insight Guides has over 40 years' experience of publishing high-quality, visual travel guides. We produce around 400 full-colour print guide books and maps as well as picture-packed eBooks to meet different travellers' needs. Insight Guides' unique combination of beautiful travel photography and focus on history and culture together create a unique visual reference and planning tool to inspire your next adventure.'Insight Guides has spawned many imitators but is still the best of its type.
Published: November 2016
ISBN: 9781780056951